Bio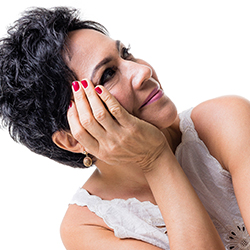 "The metaphor of a tree providing the land with the best fruits of each crop is perfect for the career of the artist Valeria Oliveira. I emphasize the word artist, because it has been some time  that Valeria is not only a singer, she is an artist aware of everything in order to give her best to the world. Her singing has definitely become more subtle and powerful." (Marize Castro – Journalist and poet)
On April 17, 1969, in Natal, capital of Rio Grande do Norte, Valeria Silva de Oliveira was born. She was raised listening to romantic and popular singers like Angela Maria, Clara Nunes, Luiz Gonzaga, among others. In her teens, she had contact with the work of Elis Regina, João Bosco, Edu Lobo, Chico Buarque, and the "bossanovistas" like the poet Vinicius de Moraes, João Gilberto, Nara Leão and the "tropicalistas" Gilberto Gil, Caetano Veloso, Maria Bethania and Gal Costa.
Early in her adult life, Valeria had two professions, civil engineer during the day and a vocalist by night. However, it did not take long for her love of music to speak louder hence her decision to dedicate herself exclusively to it.
Valeria Oliveira, as she became known in her city and beyond, performed in cultural projects and circuits such as Seis e Meia / RN and PB, Circuito Cultural Banco do Brasil, Cosern Musical, Feira de Música / CE, Projeto Cultural Banco do Nordeste / CE and MPB Petrobras.
"With the growth of Brazilian music in the world, there are frequent cases of artists who are unknown in Brazil, but they make good careers abroad. This is the case of the great Valeria Oliveira, from Natal." (Nelson Motta – Musical Critic)
In 2000 her international career began to take off with her first trip to Japan, which was very well received by the public. While in Japan Valeria made contact with producer Kazuo Yoshida, a important partner in her career. Yoshida produced her first album devoted entirely to the Japanese market and with Valeria produced three additional albums.
In 2005 Valeria was invited for her first tour of Switzerland, promoting at that time her newly released "Imbalança". Valeria performed in the Fribourg Music Festival – Rencontre Folclorique International and again, she received an invitation to extend the tour. After the success of "Imbalança" (2005) she lauunched "leve só as pedras" (2007), "No ar" (2009), "em águas claras" (2013) and 2 of collective projects, "pra que serve a música?" (2007) and "sem perder o passo" (2009). Valeria also participated in 2 discs from Japanese artists as a guest artist, "Cartas do Brasil" (Letters from Brazil – 2002) by the bassist, ex-Casiopea, Tetsuo Sakurai, including independent names such as Ivan Lins, Filo Machado, Rosa Passos, among others, and the CD "Tudo Azul" (All blue" – 2005) by the Drummer and producer Kazuo Yoshida and band.
Over the course of 15 years on her musical journey Valeria released 5 albums: Impressões (1997), Valeria (2001), Lanterna do futuro (2001), Canto Livre (2002), Imbalança (2004).
In 2007, with the release of "Leve só as pedras", Valeria's songwriter side was revealed. The album was recorded entirely by potiguares musicians and produced through a new partnership with the Japanese producer Kazuo Yoshida after  traveling to Natal especially to develop the project.
"Leve só as pedras" had a great impact. The album was launched nationally in two performances at the Theatre Crowne Plaza – Sao Paulo / SP, with good indication in Folha de São Paulo:
"In her sixth solo album "Leve só as pedras" (Take only the stones), Valeria Oliveira shows great courage by  showcasing a repertoire mostly of her original material, leaving regional folk music and singing songs aside from the classics. The result is satisfactory, with good tracks like "Pensando em ti" (Thinking of You), "A nova – pelo tempo que você quiser" (The new – by the time you want), "O sonho pede socorro" (The dream asks for help) and "Dores Pequenas" (Little Pains"), samba and pop are tempered with discretion." (Luiz Fernando Vianna – Journalist and music critic)
The album was also released in Switzerland, with acoustic performances in concert halls as "La Fourmilliére" in Villaraboudt and the cities of Bern, Fribourg and Lausanne. In Japan, the album gained exclusive distribution by Omagatoki Co. nationwide. In 2009, the United States was presented with Valeria's material at the 22nd edition of the South by Southwest Festival in Austin / Texas.
With the intention of promoting the music and the artist from Natal, Valeria created the projects "Sem Perder perder o passo" (Without missing a step);  "Música no ar" (Music in the air) and "MPB JAZZ" .
The "Sem perder o passo," toward the enhancement of RN carnival, in partnership with the composers Luis Gadelha and Simona Talma, and gathered together 26 artists from Natal, including composers, musicians and performers, with 16 tracks on a CD, closed with a tribute to Dosinho, the greatest composer of marches and traditional frevo.
The "Música no ar" starring Valeria in 2011 was special because she received as her guests Anthony of Padua, Daúde, Leila Pinheiro, Liz Rose, Joyce Moreno, Duo Taufic, Gilberto Cabral and Projeto Retrovisor. In 2013 Valeria took over the project with a new position, now as the Artistic Producer of the event, sharing with other potiguares artists her experiences of her 23-year career.
The "MPB JAZZ"  series began in 2010 now moving towards it's fourth event combines the Popular Music of Brazil and Jazz for attentive audiences. Artistic producer Valeria has invited New Orleans jazz musicians to perform in Natal Brazil and to share stage with some of the finest Brazilian musicians. The goal of the MPB Jazz series is to further develop relationships between Brazilian and New Orleans jazz musicians and artists. To exchange the rich cultural heritage of New Orleans and Brazil.
Between March and April 2012, Valeria performed in New Orleans Louisiana at music venues such as Snug Harbor and Preservation Hall.
The album "em águas claras" is Valeria's current project, a tribute to Clara Nunes, one of her major musical influences. It is the result of extensive research performed by Valeria.
With musical production Rildo Hora, the disc includes the participation of the Velha Guarda da Portela and Maestro Rildo Hora in two of the 18 tracks and is distributed by Tratore in physical and digital formats.
On that disk Valeria shows her music with sensibility and strength.